As I sat at my desk today at work, basking in the second consecutive rest day for my body, and dreadfully lost in an unproductive vortex, I started drifting off into deeper thoughts.
I think it was partially driven by some of my procrastination. I hopped onto Cool Running to quickly gloss some of the local College XC results from this past weekend, as well as some of the road race results. Before I got back to the project I was working on, I jumped over to the GAC website to see if anyone had posted any new club news.
I was shocked to see that the Stonecat confirmed entries were updated a week earlier than advertised, seeing the reason why, only 40 or so slots left for the marathon! This twisted my brain into the realm of "am I really going to attempt this two marathons, three weeks thing?" I already had the app printed out and strategically placed in my cubicle, all it needed was a signature, a check, an envelope, and a stamp.
Yes, I have been slightly gung ho about signing up for the Stonecat, but rational side of me realizes the challenge inherent in running 26.2 miles on trails. There are other races with less mileage and over far more treacherous terrain, but one must approach the starting line of a trail race with an iota of rational confidence that they know what they are getting themselves into. Hell, in 2004 it snowed for the Stonecat and 104 people finished the marathon in addition to the 14 that finished 37.5 miles, and 35 that amazingly endured to finish the 50 miler: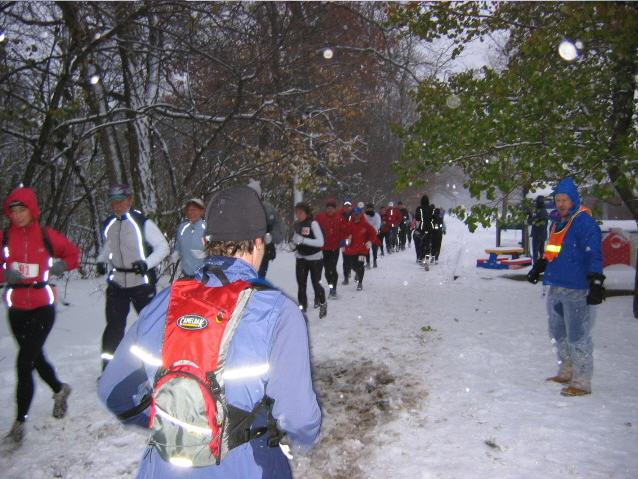 With all of this thought and considered, I signed the application, and, when I left work, I put the completed application in the mail. If I happen to be one of the lucky 40 to get into the marathon it will definitely be a run to remember for me.
One of the elements that made the decision easy was a photo I have on my desk at work. It is a photo of my Dad, my Grandfather, and me on the day my wife and I were married. My Grandfather passed away almost 18 months ago, and it was a day I don't think I'll ever forget.
My Grandfather was first diagnosed with Cardiomyopathy - essentially a virus that attacks the heart and created holes in the organ, which limits the ability to pump blood to the body - back in 2003. He was told that there is no fix for this condition, and essentially one day his heart would stop working, as it stood they estimated that his heart was only working at 40% of its capacity. At the doctor's advisement he lost a great deal of weight to ease the strain on his heart, essentially adding years to his life, and then he was diagnosed with Pancreatic Cancer. All of a sudden the Cardiomyopathy was a moot point. He fought the cancer as best he could, but then in the spring of 2007 his Kidney's began to fail, and he was given days to live.
To that point I had lost two other close relatives - my Maternal Grandparents. My my grandfather passed away there was really no rhyme or reason. I had visited him in the hospital after a simple surgery, expecting him to be home soon. A few days later we got a phone call that he was gone. My grandmother was also somewhat unexpected, but she had not seemed well in the weeks leading up to her passing. Luckily, I was able to visit her a couple days before she passed, but it was still hard because there was a phone call and the very sad news.
In the case of my Paternal Grandfather, we knew what was coming. The day before he passed I went to see him at home, and this was clearly a trip to say goodbye. Often people greet sudden death with the wish of being able to say goodbye, but as we drove down to my Grandparent's house I could not comprehend how I would ever say goodbye to one of the most influential people in my life. After the visit, I sat in the car and could not wrap my head around the thought of never seeing someone I loved so much again. Sure, there are spiritual beliefs, but sometimes that is not enough to reconcile the physical present.
I have been extremely lucky to have known my Grandparents. All have had a profound influence on my life, and the memories of so many great things are always readily available. In the moments where I have had to say goodbye to each it is abundantly clear to me that life is far too short, and it is in their memory that I run. In some ways it is to make sure that I stay healthy so I can be there for my children and their children in the future, but it is also in celebration of life and freedom. Running always reminds me that there is more to life, especially on days when something goes wrong at work or when it feels like routine is taking over.
Being fast is a good goal, but it shouldn't be the only one. That is why I love trail running and endurance racing. Yes, the fastest are rewarded because of their ability, but toeing the line, meeting the challenge, and crossing the line is as worthy an accomplishment. Not to downplay the challenge of running a 5k, but the level of commitment and training that it takes to run a trail race or endurance race really allows one to peel back the superficial layers that life sometimes super-imposes on us.
I run because I have been given breath.
I run because I have been given an able body.
I run because life is bigger than frameworks, expense reports, and fictional facades.
I run for the challenge.
I run because sometimes in these challenges you effortlessly fly, while other times you have to grind and grit, and others you are forced to stop, walk, and come face to face with defeat. If there is any greater teaching tool in life I am not sure I know it.
I run because it teaches the need for both self-determination and community.
Sure, this is very idealistic, and probably seems stock and cliche, but it is a snapshot answer to the question of why I would want to do something crazy like run marathons. Finishers medals are nice, but, honestly, there has to be more.
So my friends, why do you run? What drives you to take on the challenge each day?